+5
TrollEcat
Daisylove
plumbun
Mini Gnome
strike
9 posters
I'll admit, I pulled the individual packages out of the parcel and thought "Oh no! There's no card, I won't know who to thank!"
But, Mini Gnome was sneaky (albeit very fun!). She put her message in a Christmas bottle!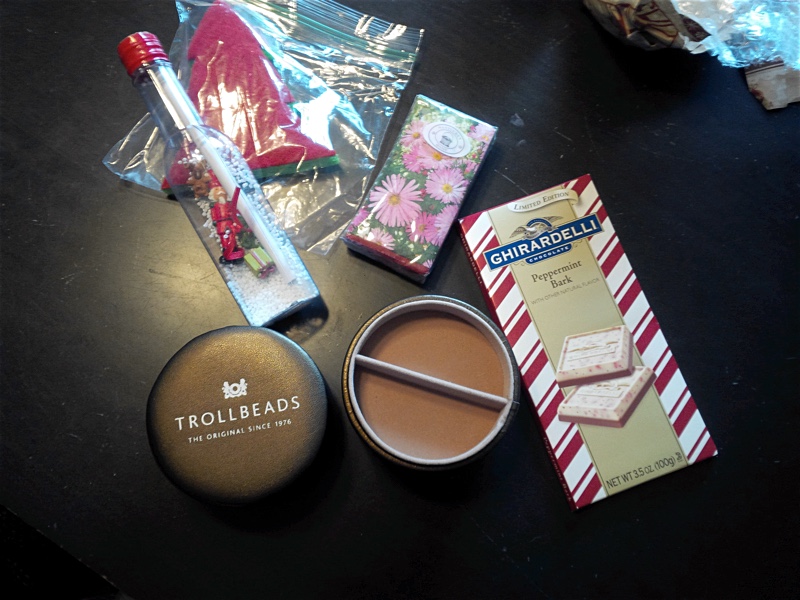 In addition to the fun Christmas in a bottle, I got Peppermint Bark, which I have sampled and hidden from the rest of my family; a purse-sized packet of kleenexes, perfect for this time of year; a Christmas sponge/scrubber; and a Trollbeads stacker! I have a black stacker and use it for my X links, and it's getting a bit jumbled, so this will solve that problem perfectly!
Mini Gnome also seemed to read my mind with the beads that she sent - a beautiful cobalt blue glitter ornament and the family of seals (excuse my very dry hands  
)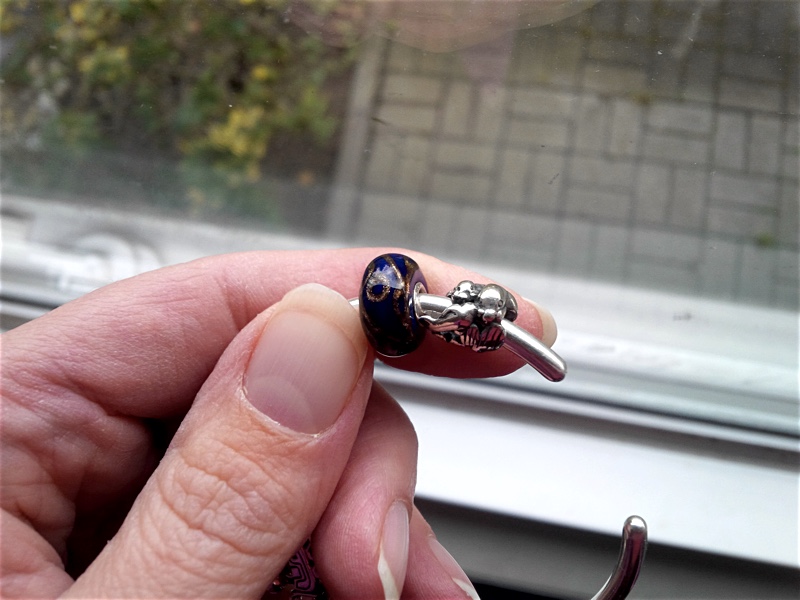 I had just decided to put a blue glitter ornament on my "track down and buy list" for my Christmas bracelet
I was also thinking recently that I should switch up my winter bracelet this year. I like it, but it hasn't changed that much  in the last few years and needed something new. In another thread I was saying that I wanted to get a polar bear bead, and now I really need to because it would go so perfectly with my seals on a winter bracelet
The seals also remind me of the trip that we took to the Galapagos islands a few years ago where we swam with the turtles and seals there
Thank you again Mini Gnome
I'm glad it arrived safe & sound and that you like your treats and beads! Enjoy!!

Mini Gnome

Trolldiva




Posts

: 1729


Join date

: 2011-04-03


Location

: Pennsylvania, USA



Oh I love your swap package the seals make it so sweet.

plumbun

Troll Guru




Posts

: 2914


Join date

: 2011-06-25


Location

: USA



How sweet, the message in the bottle is very cute. Love your package and goodies and beautiful beads

Daisylove

Trolldiva




Posts

: 1948


Join date

: 2011-01-27




TrollEcat

Trollmeister





Posts

: 591


Join date

: 2013-08-06



Peppermint bark is so yummy. What a wonderful and fun idea to put the card in a bottle! Those beads are so lovely and perfect for the holiday!

vampbutterfly

Trolldiva




Posts

: 1675


Join date

: 2011-06-23


Location

: Eastern,USA



Such wonderful beads and treats! Merry Christmas.

Pandabee(uk)

Troll Guru




Posts

: 6187


Join date

: 2011-03-25


Location

: UK



Such lovely gifts and beads! Merry christmas to all

stacecase

Troll Guru




Posts

: 3750


Join date

: 2011-12-28


Location

: The Netherlands



Oh such a lovely lovely parcel! And the card in a bottle idea is wonderful! The beads are super - the glass is gorgeous and the seals are really cute - Very thoughtful and lovely

Trollperle

BeadWrangler




Posts

: 6202


Join date

: 2011-03-02


Location

: Germany



---
Permissions in this forum:
You
cannot
reply to topics in this forum